Chapter Overview
Introduction
Message from Asian Human Rights Commission
Message from Pakistan Bar Council
Statements and articles
Chronology of Events
Image Diary of Events
Independence of the Judiciary
SC Judgement & Affidavit
Statement from Mr. Munir Malik
Background of the Pakistan Judiciary
Cases of Disappearances
Foreword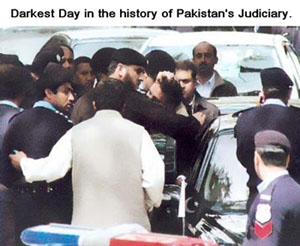 The suspension of the Chief Justice, Mr. Iftekhar Mohammad Chaudhry on March 9, 2007 by President General Musharraf, who is also the Chief of Army Staff, infuriated the entire legal community and the people of Pakistan in general. The resounding 'NO' from the people on behalf of the highest officer of the judiciary has shown the strength and trust that they have in the rule of law, the supremacy of the judiciary and constitutional governance; a concept which appeared to be truly beyond the understanding of the arrogant, military rulers.
The events that took place during period of the lawyer's movement is being documented in order to reveal the very real dangers to life and limb that they, and the common folk of Pakistan went through to ensure the supremacy of law and in resisting actions which were ultra vires to the constitution. The incredible determination that these people showed deserves to be well and truly glorified.
During the lawyer's movement, Mr. Justice (retired) Rasheed Razvi, executive member of Pakistan Bar Council, was here in Hong Kong in early June, and during his address and discussions with the Asian Human Rights Commission it was decided that a pictorial booklet should be published on this heroic struggle of the people of Pakistan. Generally, in this line of work, we do not document events in such a manner, but in the case of this movement, which is unique in our subcontinent, it was decided that the event should be recorded through photographs and text. This pictorial booklet is jointly published by the Asian Human Rights Commission and the Pakistan Bar Council.
We wish to express our gratitude to the Daily Dawn, of Karachi who gave us access to their photographs which make up the majority of the pictures in this publication. The chronology of the movement is mainly based on Daily Dawn's news coverage.
We also received photos from lawyers and photo journalists, which may have been taken from news agencies.
The Pakistan Bar Council obtained some photographs from different sources and the council is taking responsibility of those photographs.
In collecting the photographs we received great help and contributions from the Pakistan Press International (PPI), Online International News Network and Daily Nawa-i-Waqt publications.
In preparing the accompanying text we have tried to maintain the chronology of events in relation to the photographs; again we apologise if we have missed any particular event.
Finally, we are most grateful for the cooperation of the Pakistan Bar Council and its Vice Chairman, Mirza Aiziz Akbar Baig and also to Mr. Muneer Malik, President of Supreme Court Bar Association for taking an interest in this publication. We are also thankful to Justice (Rtd) Rasheed Razvi for providing vital material and to Mr. Tawangur for providing pictures. Beena Sarwar and John Sloan helped us in editing the text and we appreciate their contributions.
Baseer Naveed